2020 ERP Comparison
You have landed on the most comprehensive comparison of ERP systems anywhere on the internet. We have over 100 ERP systems, hundreds of questions/vendor answers in the following categories:
System Information
Contact
Cost
Vendor Information
Company Profile
Geography
Language
Industry
Technology
Applications
Generic Features
Business Intelligence
Financial
Budgeting and Forecasting
Fixed Assets
Distribution
Manufacturing
Professional Services
Construction
Service Management
Human Resources
Document Management
CRM
eCommerce
The data was provided by the vendors. It is not possible to validate all of the data, but it is in the best interests of vendors to provide honest and truthful responses as ultimately their credibility is at risk if the representations made are deemed to be false or misleading. The vendors are able to update their data at anytime through a self-serve portal and at no charge to them.
Sample Report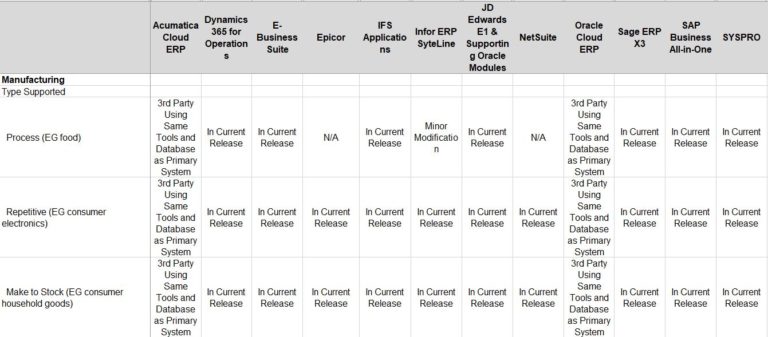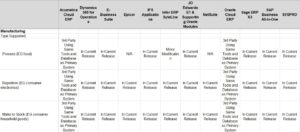 Top 10 ERP Systems
You can also complete an online survey and then view the 10 best ERP systems for your needs based on percentage fit calculations available here.
Tiers
The ERP systems have been segregated into tiers based on customer revenue, employees and product cost. This is a convenient, albeit not perfect, means of differentiation. We caution against using this information to calculate the costs for a specific system, since these numbers reflect averages from the survey population.
Criteria
| | Tier 1 | Tier 2 | Tier 3 |
| --- | --- | --- | --- |
| Customer revenue | > $200M | $10M – $200M | < $10M |
| Customer employees | > 500 | 50 – 500 | < 50 |
| Licence fees | > $300K | $50K – $300K | < $50K |
| Implementation fees: Licence fees | > 2:1 | 1:1 – 2:1 | < 1:1 |
Is there a big difference between ERP Systems?
Systems vary widely based on the target market (company size and industry). But what about the vendors targeting the same market? The answers is still Yes. Differences occur because of different system capabilities that can have a major cost if they are missing. Differences also occur because of the people that support the system. These differences can make or break an implementation. The implementation partner should not just have a proven methodology, experienced resources but also industry knowledge/expertise.
ERP Comparison Report
You will be able to download an excel file with no restrictions. Please let us know if it's useful or you would like additional information.