ERP Software Selection
Instead of product sellers, our ERP Software Selection team provides years of real-life experience helping business owners and managers eliminate inefficiencies and improve their business processes. We have extensive knowledge of all the leading ERP systems and conduct ongoing research on emerging solutions and updates to existing systems.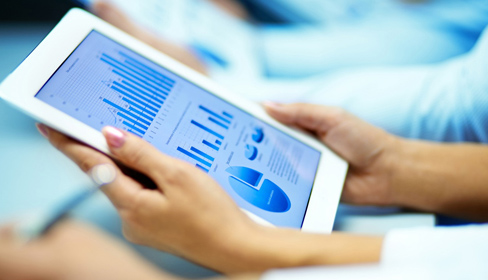 Business Case Foundation
ERP Software Selection starts with an understanding of Critical Success Factors (CSFs) which we define as those things an organization must do well in order to be successful. We facilitate a management/executive meeting where the CSFs are identified as well as the key requirements and Key Performance Indicators (KPIs). There are many ways to achieve CSFs but our focus is through systems. So we ask what system functionality would help achieve the CSFs, which in turn become the critical requirements for a new system. We also ask how the CSFs are measured (KPIs) and the current metric and the KPI goals for the new system. We think that it's time to celebrate not when you go live or even if you're on time and on budget. The time to celebrate is when you reach the KPI goals.
Business Process Review
The next phase in our ERP Software Selection process is understanding the existing business process. We document the business process steps, problems, the impact of the problems and the requirements. Sometimes we also provide swimlane flowcharts. We focus on the problems as a new system is the best opportunity an organization will ever have to fix problems. In fact every problem should be considered an opportunity. The impact allows us to know what's important and can also be useful in a business case. The requirements are based on the strengths of the existing system and the functionality that could potentially fix the problems. The swimlane flowcharts provide a simple and effective way to visualize the business process flow.
Click here for more about business process reviews.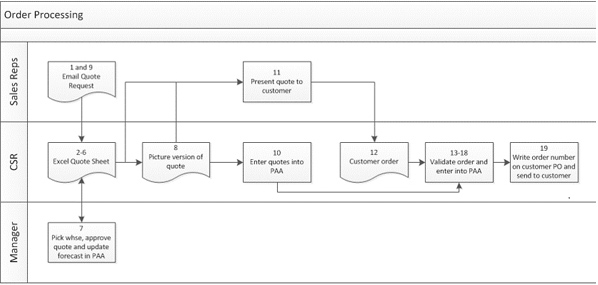 Requirements Analysis
We create a requirements document that contains the key and unique requirements. We strive to be clear, unambiguous and don't waste time with basic functionality. We also supplement the needs you've already identified with our own comprehensive industry-specific checklists. We have each requirement confirmed and prioritized.
Vendor Analysis
The requirements are wrapped into a Request for Proposal, which is issued to potential vendors. We prepare a preliminary analysis of the vendors which includes costs, scoring of their responses, underlying technology, developer and implementer information. We facilitate high level presentations in the ERP Software Selection process followed by reference checks followed by a Proof of Concept, which is a demonstration based on a day-in-the-life script that we prepare.
Contract Negotiation
We assist in contract negotiations to ensure favourable terms and the best price.